Advisory removed for Vancouver Lake!
Vancouver Lake advisory has been removed after two consecutive weeks of samples show toxin levels below recreational guidance. Water sampling is done weekly while a bloom is present, view latest results at Washington State Toxic Algae website.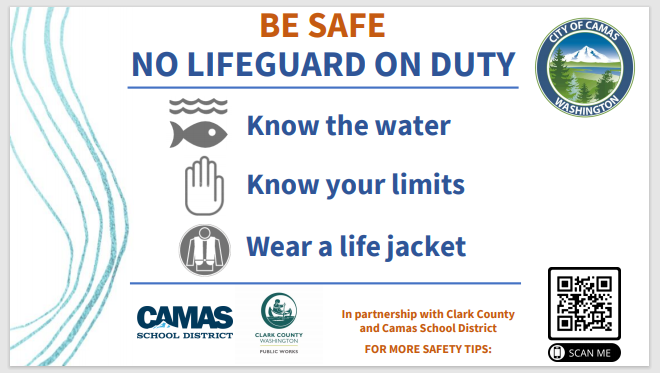 Please enjoy cooling off on hot summer days in our waterways in a fun and safe way. In partnership between the City of Camas, Camas School District and Clark County, you'll see "Be Safe" signs installed around Lacamas, Fallen Leaf and Round Lakes and social media safety reminders throughout the summer.
KNOW THE WATER: Even on very warm days, lakes and rivers are still cold enough to shock and immobilize swimmers. Remember, rivers can be swift and dangerous.
KNOW YOUR LIMITS: Drowning can happen swiftly and silently, and especially when swimmers tire. Please don't go swimming along. Never leave children unsupervised in or near water, and remember supervision requires complete attention.
WEAR A LIFE JACKET: Please wear a life jacket anywhere without lifeguards or whenever on a boat, personal watercraft, inner tube or other water sport equipment. Life jackets save lives.
For more healthy swimming practices from Clark County, visit the link below: