What's happening in 2021 regarding common
carp

in the lake:

In 2021, Friends of Vancouver Lake will contract with commercial fishermen to net common carp on Vancouver Lake. The effort is aimed at reducing the large population of common carp that impair water quality at the lake by stirring up lake bed sediments contributing to turbidity and harmful algae blooms. After reading about a state sponsored event last year at Moses Lake, Friends contacted Elliot DeLong of the Grant County Conservation District to learn more about the project. Success of the project at Moses Lake was reported here.

Many lake associations, management districts and state fisheries experts are working to help control common carp and mitigate their negative impact on water quality. We have read with interest of work in Ohio at Grand Lake St. Marys – a very unique body of water built – by hand – in 1845. It is 13,500 acres and was built as a canal feeder lake. Learn more here.

Information from a Grand Lake St. Marys study regarding common carp: Large populations of common carp can both directly and indirectly affect water quality, water clarity, aquatic habitat, and species richness (i.e. sport fish populations) within the lake system. Documented impacts to ecosystem processes fall into three categories;
Nutrient Inputs – direct input and conversion of nutrients in the system through metabolic processes.
Foraging Behavior and Bioturbation – alteration of habitat and ecosystem processes.
Fish Assemblage and Diversity – domination of modified habitat and reduction of predation.
Background in Washington State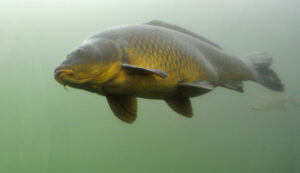 "According to Ben Hur Lampman in Coming of the Pond Fishes (published in 1946, and the basis for most historical information in this document), the earliest introduction of exotic fish in the Northwest was in 1880. In that year, a Troutdale, Oregon sea captain received from California a shipment of 35 "genuine German carp and perfect beauties." These fish soon spawned in their Troutdale pond, and before the year was out the Captain estimated his increase at 7,000 carp. In late May of 1881, Mother Nature played a cruel trick. An unusually high spring freshet invaded the carp nursery, and several thousand "perfect beauties" escaped into the Columbia River. Within 12 years, the Oregonian newspaper reported that commercial fishermen were offering to supply carp as fertilizer in any quantity to farmers, for $5 a ton." Learn more here!